Water Wise
When to drink:
Drink water at the right time to benefit your body
2 glasses of water after waking up - helps activate internal organs
1 glass of water 30 minutes before your meal - helps digestion
1 glass of water before taking a bath - helps lower blood pressure
1 glass of water before bedtime - avoid stroke or heart attack
Why we must drink water: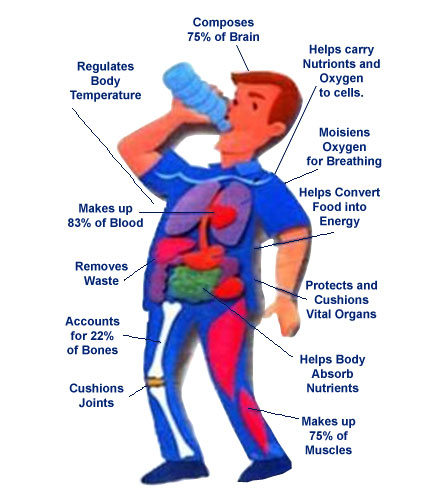 Water Saving Tips
Try to do one thing each day that will result in saving water. Don't worry if the savings are minimal. Every drop counts. You can make a difference.
Saving Water Indoors:
Never pour water down the drain when there may be another use for it such as watering a plant or garden, or for cleaning.
Verify that your home is leak free. Many homes have hidden water leaks. Read your water meter before and after a two-hour period when no water is being used. If the meter does not read exactly the same, there is a leak.
Repair dripping faucets by replacing washers. If your faucet is dripping at a rate of one drop per second, you can expect to waste 2,700 gallons per year. This adds to the cost of water and sewer utilities, or can strain your septic system.
Check for toilet tank leaks by adding food coloring to the tank. If the toilet is leaking, color will appear in the toilet bowl within 30 minutes. Check the toilet for worn out, corroded or bent parts. Most replacement parts are inexpensive, readily available and easily installed. (Flush as soon as test is done, since food coloring may stain tank.)
If the toilet handle frequently sticks in the flush position letting water run constantly, replace or adjust it.
Saving Water Outdoors:
Don't overwater your lawn. As a general rule, lawns only need watering every five to seven days in the summer and every 10 to 14 days in the winter. A hearty rain eliminates the need for watering for up to two weeks. Buy a rain gauge and use it to determine how much rain your yard has received. Most of the year, lawns only need one inch of water per week.
Plant it smart. Drought efficient landscaping is a great way to design, install and maintain both your plants and irrigation system. More importantly, it will save time, money and water.
Water lawns during the early morning hours when temperatures and wind speed are the lowest. This reduces losses from evaporation.
Don't allow sprinklers to water your street, driveway or sidewalk. Position them so water lands on the lawn and shrubs... not the paved areas.
Install irrigation devices that are the most water efficient for each use. Micro and drip irrigation and soaker hoses are examples of water efficient irrigation methods.
General Water Saving Tips:
Get involved in water management issues. Voice your questions and concerns at public meetings conducted by your local government or water management district.
Be aware of and follow all water conservation and water shortage rules in effect in your community. Don't assume -- even if you get your water from a private well -- that you need not observe good water use rules. Every drop counts.
Encourage your employer to promote water conservation in the workplace. Suggest that water conservation be put in employee orientation and training programs.
Patronize businesses which practice and promote water conservation, such as restaurants that only serve water upon request.
Report all significant water losses (broken pipes, open hydrants, errant sprinklers, abandoned free-flowing wells, etc.) to the property owner, local authorities or your water agency.