Corporate Social Responsibility - Giving Back is what it's all about.
Give clean safe drinking water where it is needed the most – in areas that suffer from water poverty, water contamination and pollution.

Do your best to prevent water borne diseases.
Let the people benefit with better health.
Let them spend less on medicines and treatments.
Let them save precious man days.
Let the girl child go to school where she belongs.
Let the women live a better life.
Let ground and surface water not be exploited.
Let water be conserved.
Let the world live.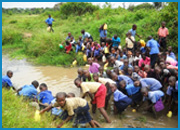 'Corporate Social Responsibility is the continuing commitment by business to behave ethically and contribute to economic development while improving the quality of life of the workforce and their families as well as of the local community and society at large'.
– World Business Council For Sustainable Development.
'CSR in India has traditionally been seen as a philanthropic activity. CSR has moved from institutional building (educational, research and culture) to strategic community development through various projects and programs'
– Confederation of Indian Industries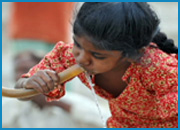 Focus on
a.
Hunger, Poverty, Malnutrition and Health:
Eradicating extreme hunger, poverty and malnutrition, promoting preventive healthcare and sanitation, and
making available safe drinking water.
b.
Rural Development Projects:
Strengthening rural areas by improving accessibility, housing,
drinking water
, sanitation, power and livelihoods, thereby creating sustainable villages.
c.
Environmental Sustainability:
Ensuring environmental sustainability, ecological balance, protection of flora and fauna, animal welfare, agro-forestry,
conservation of natural resources and maintaining the quality of soil, air and water
.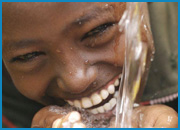 WaterMaker's Atmospheric Water Generators produce clean and safe drinking water by condensing humidity from the air and require no water source.
Environment positive: they add to ground and surface water resources not deplete them, there is no reject waste water as in the case of RO which re-contaminates ground water, no utilization of non bio-degradable plastic water containers and no transportation costs which increase carbon footprint.


Decentralized installations: Can be installed within a short period of time for standalone drinking water uses at schools, healthcare clinics, rural communities, community centers, bus stations, petrol pumps, pilgrimage centers, tourist spots, public areas, emergency relief and wherever there is a need for safe clean drinking water.
CSR Initiatives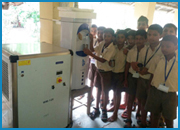 WaterMaker installed at Alibaug school
An enlightened philanthropist donated a WaterMaker to a school in Alibaug so that the children could have safe and clean water to drink. He wanted the children to know about new technologies. The children were awed and thrilled to see the WaterMaker in operation!.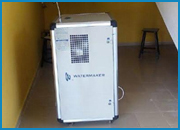 WaterMaker installed at Tamil Nadu school
A company in Chennai donated a WaterMaker to school. Now the children and staff enjoy safe drinking water from air.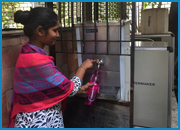 Atmospheric Water Stations in Mumbai
An enlightened company in Mumbai has already set up drinking water stations at Free Study Centres in Mumbai.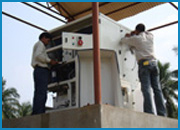 Rural Atmospheric Water Station at Jalimudi village
WaterMaker has been providing clean drinking water from air to over 500 villagers at Jalimudi village, in Andhra Pradesh since 2009.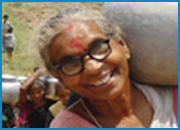 Let us work with you for a better tomorrow
We invite companies, NGOs, local governments, community based organizations, charities, trusts and others involved to join hands with us to provide safe clean drinking Water 4 All worldwide.
Please contact us:
info@watermakerindia.com