Projects
WORLD'S FIRST VILLAGE TO GET DRINKING WATER SUPPLY FROM THE AIR
THE VILLAGERS OF JALIMUDI, INDIA HAD NO CLEAN DRINKING WATER. NOW,
THEY HAVE IT, THANKS TO WATERMAKER INDIA.
WaterMaker Water Station at Jalimudi.

Contaminated water supply
Many villages in India have no clean water supply. Their wells run dry. The ground water is contaminated or depleted. And so they have to walk for hours in the hot sun to the nearest water source, carrying back heavy pots of water which will last them for just one day. And then they repeat the same exercise day in and day out. Imagine the waste of precious time and energy.

Our solution
We had a solution to their water problems: A new technology that promised to give the people of Jalimudi access to uncontaminated water - our unique WaterMaker atmospheric water generators.
We proposed a water project at
Jalimudi,
a small village near Rajahmundry, East Godavari District on the basis of its location and climatic conditions.
A team effort
It was a team effort by all. The village Panchayat played an important role as did the Collector of East Godavari District, the RWS Dept and other local authorities. They identifed the location, arranged for 24 hr power supply, set up the infrastructure for the
AIRWATER/WATERMAKER WATER STATION
and extended their whole hearted cooperation for this project – the first one in the world using atmospheric water generators to provide drinking water to an entire village. The AW 1000 machine was flown in. The water storage tanks with distribution outlets were set up and we were ready to go.

And the villagers of Jalimudi now have their own, secure constant supply of clean safe drinking water. It will change their lives forever.
History has been made, for Jalimudi can claim to be the world's first village to get its drinking water supply from the air!

Our commitment
We are committed to initiate rural water programs all over India and the world. It only needs an enlightened Government, socially concious organisations, NGOs and responsible communities,who have the will and the means to bring clean drinking water to those who need it the most. For water is the key to life.
MAKING WATER, CHANGING LIVES




WaterMaker Air Water Station at Gandhigram.
An alternate water solution to the global drinking water crisis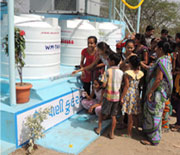 The 500 villagers of Gandhigram near Mandvi in Gujarat, India, now have safe drinking water from air.
They don't need to drink well water, tanker water or rely on piped water which is sometimes saline, non potable
or in short supply. For they now have their own source of clean purified water from air – The WaterMaker Air Water
Station, the 1st in Gujarat.
The installation consists of two 1000 litre WaterMakers generating 2000 litres of fresh clean drinking water
per day and 3 storage tanks. The pilot project was initiated by the villagers, the local water authorities and
WaterMaker's exclusive distributors in Gujarat, ACAP Impex.
April 29th 2015 was a day of excitement and rejoicing. "It is a scientific wonder" said a young student.
"This healthy water will be of great benefit to us," said a woman.
The Technology
The technology extracts humidity from the atmosphere, condenses, purifies and dispenses it in the form of
safe drinking water. WaterMakers work most efficiently in warm areas with high humidity.
Technology requires no water source.
Uses electricity or any alternate source of energy.
Water quality complies with WHO/BIS standards.
Contains no harmful bacteria, chemicals, pesticides or minerals.
Is easy and cost efficient to maintain.
It is environment positive.
Decentralized, stand alone and scalable units require short time frame for installation.
Available in units of 120 litres – 5000 litres.
Made in India.
Testimonials Videos